Because I'm allergic to corn and gluten-free, I had to find a way to satisfy my cravings for corn tortillas and corn chips. This is my favorite use up for leftover nut pulp—almond and brazil nuts. Any nut pulp will work for this recipe.
These tortillas are a great way to indulge in something bready for those of us that can't have yeast. In my house, they are a prime candidate for an open-face scrambled egg sandwich with chicken gravy, dippers in my Turkey Chili or even just toasted with butter and manuka honey.
If you want to make tortillas more than once, please invest in a cast iron tortilla press. Mine is an 8″ press and it easily makes tortillas that are between 5-6″. It also does double duty when I make crackers (recipe TBA). I just cut the rounds into triangles before baking.
It's worth the expense just for the saving your sanity in trying to get the tortillas evenly thin enough and some how approaching round. When I tried to roll them out, all my tortillas looked like Spain—vaguely roundish with odd bits sticking out!
Even with the tortilla press, the edges look a bit rough. You can trim them before cooking but I don't bother.
The dough is somewhat forgiving on cooking time. You have the flexibility to soft bendy tortillas or crisp cracker like tortillas. I wouldn't try to make a wrap out of them though. I'm still working on a flour-type tortilla.
Nut Pulp Tortillas
Tortillas made from nut pulp
Ingredients
1 cup dried nut pulp or almond meal/flour (112g)
⅓ cup arrowroot flour (42g)
⅓ cup tapioca flour (40g)
⅓ cup chickpea/fava bean flour (40g)
1 tsp gluten free baking powder (double if sodium free)
1 small squirt of agave (a little over ¼ tsp)
1¼ tsp salt
2 Tbsp olive oil
½ warm water (up to ¾ cup)
Instructions
Combine all of the dry ingredients, then cut in or work in the olive oil using a pastry blender or a fork.
Add the agave and warm water, starting with ¼ cup water and mix well. Continue to add water until a soft, cohesive dough is formed, like pie crust dough. Be very careful not to use too much water. If you can squeeze a handful of dough into a semi-cohesive ball, you have enough water.
Use a #24 disher to make equally sized balls. Use a tortilla press with parchment paper on both sides to prevent sticking or use a rolling pin. Try to get it as thin as you can.
Cook individually on medium heat using a non-stick pan. It only takes a minute on the first side. When there are brown flecks, flip and cook the other side for about 30 seconds, then remove.
If eating right away, place in a tortilla warmer or in between clean hand towels to keep warm and moist. Otherwise, place tortillas on a cooling rack.
I normally get 10-12 5" tortillas out of this recipe.
Store leftovers in the freezer between layers of parchment paper.
Notes
Keep the raw tortillas separated with parchment paper until you're ready to cook them. If you don't cook them right away, you can place the whole stack with parchment paper in a gallon-size bag in the refrigerator for a few hours. Wait too long and the parchment will wick away all the moisture.

If I'm not going to use them right away, I usually undercook them a tiny bit. So when I heat them up the second time, they puffy up and get brown edges. Yum!
Nutrition Information
Serving size:
1
Calories:
104
Fat:
3.9
Saturated fat:
.4
Unsaturated fat:
2.3
Carbohydrates:
10.3
Sugar:
.8
Sodium:
324.6
Fiber:
.8
Protein:
1.5
Cholesterol:
0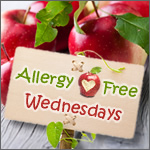 My post was reader favorite on Allergy Free Wednesdays. Thanks readers!