Having a corn allergy means you miss out on a lot of popular snacks. Just about all chips are out due to the use of corn oil, maltodextrin, xanthan gum and citric acid. Popcorn is sooooo out. Most of the time even smelling popcorn is out. Which means movie theaters are often out. Sigh.
So as not to feel deprived, I converted an old family favorite into a healthier gluten-free and corn-free "popcorn" treat. My mom used to make  "puffed wheat" as a snack for us as kids. This meant melting some butter in a sauce pan and stirring in the puffs and sprinkling it with salt. Stir until the butter evenly coats the puffs and the puffs are warmed through. Voila! Instant salty snack.
When we discovered that kamut puffs are twice the size of wheat puffs, it was a happy day in my family! LOL
Well today, I can't have corn or wheat (or kamut) due to my allergies. So I've been experimenting with different puffed grains that are safe for me. I've discovered that millet puffs and some rice puffs are safe for me. Yeah! The old family favorite is back in rotation with modifications and added caramel. Because caramel makes everything better!
As far as movie theaters go, thank goodness for streaming. 🙂
Carmel Popcorn Substitute - Corn-free, Gluten-free
Buttery, salty, caramelized puffs
Ingredients
1 tbsp butter/coconut oil
2 tbsp coconut sugar
4 cups puffs (millet, rice, etc…)
salt to taste
Instructions
Add butter and coconut sugar to a large sauce pan over medium low heat. Stir until the coconut sugar melts into the butter.
Add the puffs to the pan, making sure to only fill the pan half way.
Stir to coat the puffs until all are covered and the puffs have heated through.
Serve immediately while warm.
Notes
The recipe scales nicely. The amount of caramelized coverage you get is totally dependent on the amount of puffs you add. Feel free to modify it to your taste.

You can omit the sugar and serve as a savory snack.

You only want to fill the pan half way. Trust me on this one. With all the stirring, you'll wind up with more puffs all over your kitchen than in the pan.

Remove the puffs from the pan immediately. Once the sugar hardens it's nearly impossible to get the puffs out and you run the risk of burnt puff crust on your pan. Ugh!
Note to email subscribers: I'm moving my email newsletter over to MailChimp. If you see duplicate emails this week, that's why. I apologize for the disruption. I'll remove the WordPress ones as soon as I verify that the MailChimp service is working properly.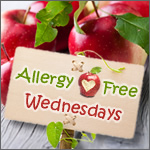 My post was reader favorite on Allergy Free Wednesdays. Thanks readers!